UPSKILLING FOR Climate Leaders
8-week fully-funded open-cohort program to bring climate innovation startups and high potentials to the next level.
ClimateX Leadership Program
The ClimateX Leadership Program is geared toward Climate Entrepreneurs. It is aimed to boost the long-term performance, competitiveness, and resilience of climate-oriented companies. The program is carefully curated with best practices from leading tech companies and ambitious startups like Deezer, PayFit, HelloFresh, etc. It enhances the skills of founders and leaders and provides them with an actionable ready-to-use toolkit and space for intensive learning, hands-on application, and collaborative reflection within a curated cohort.
Leadership. Goal Setting. Operating Model. Project Performance. Productivity. Innovation.
INTENSIVE LEARNING
BIA's methodology includes accelerated, immersive and hands-on learning journeys in cohorts. We're striving for the maximum outcome in a short time, delivered through bite-sized content.

Learning with BIA is about getting your hands dirty – everything we teach, we try out in cases.

Each of the ClimateX Leadership Accelerator modules addresses specific organizational and leadership challenges of companies, taking into account the commercial and cultural paradigms of climate entrepreneurship.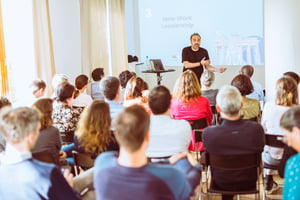 PEER COLLABORATION
Our program gives space for application and reflection. Implementation challenges and peer feedback sessions strengthen accountability and provide space for networking and collaborative problem-solving.

ClimateX Leadership Accelerator aimed to provide a sense of belonging within the cohort and broader BIA entrepreneurial community network.

Creating a unique space for exchange and challenge-sharing helps leaders to develop, grow and implement new tools and techniques faster.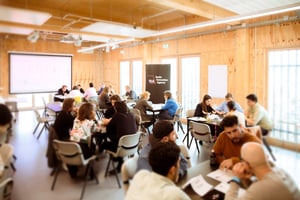 COMMUNITY & EVENTS
At BIA, we're passionate about New Work, Innovation, Impact, and Startups. And we like to create communities of like-minded people bringing together leaders from startups, Mittelstand, investors, corporates, and institutions.

Community formats and events round out the ClimateX Leadership Accelerator, allowing participants to network within the cohort and broader ecosystem to share climate-focused opportunities, best practices, and knowledge.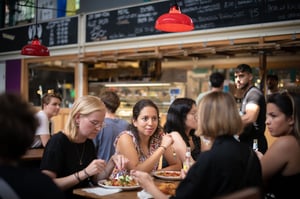 Download our
Program Leaflet

to learn more about the curriculum, timeline, and learning objectives!
Who is this program for
Company stage: Your startup or company has a primary climate focus and already working on the market
Impact agenda: Your business model is committed to reinvesting revenue mainly for social impact
Engagement: You are full-time involved in the company or startup

Team setup: you are 1-2 people who want to move an organization forward
Location: You are based in Germany (the program allows remote participation)
Focus: Climate-oriented startups and companies in the areas of Climate Tech (e.g. Energy, Mobility, Construction, Logistics, Food Systems, Circular Economy)
Frequently Asked Questions
When is the application deadline?
The deadline is September, 15th. However, our team will be revising applications on a rolling basis, so we encourage you to apply early! The cohort starts on September 25th.
How long does a cohort last?
Each batch lasts 8 weeks, the program is fully virtual with some optional offline networking activities in Berlin.
What do I need to apply to the program?
You need to submit your application through this form. Please note, that the program has eligibility criteria. You will need to provide legal information about your company as well as a motivation letter.
How does the program structure look like?
Throughout the runtime of the program, you have 6 interactive modules around leadership practices. Program modules include one interactive masterclass and one peer session.
The program also includes kick-off and check-out events. You join our vivid Slack community and will be involved in BIA Startup Hub activities, connecting you to a bold network of corporates, city stakeholders, and investors.
How much time will I need to dedicate to the program?
Participants need about 4 hours per week for the 8-week program.
Am I eligible to participate in the program?
Founders, C-Level, or organization change agents of climate-oriented companies and young startups are eligible to be part of the program. They should be full-time employed and the company should have clear impact goals. A company should be registered in Germany.
Can we participate as a team?
Up to 2 team members can participate in the program cohort.
Do I need to stay in Berlin during the program?
The program is fully-virtual, so organizations located all over Germany can apply.
Can I apply if I am not German?
Yes, the program is open to all nationalities as long as the founders are registered in Germany.
When will I know that I've been selected for the program?
Candidates are selected on a rolling basis, the earlier you apply, the earlier you book a spot in the program. The final cohort announcement will be done by September 20th, 2023.
"It was a great program where we got a lot of input from the BIA team and the coaches. We were able to ask all the questions, that might seem silly in the beginning but that everyone else has. I realized that there are things that you need to talk about and this program gives you exactly that."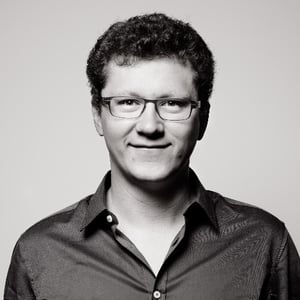 The project is supported by funds as part of the REACT EU program by the Federal Ministry for Economic Affairs and Climate Action of Germany and the European Social Fund.
Team Stories
LEARN ABOUT THEIR JOURNEYS
WE WANT TO HEAR FROM YOU!